One of the most important social networks today is Instagram. Its format focused 100% on visual content makes it one of the networks with the greatest interactivity and impact. This has made many companies turn to look at this platform as a good way to publicize their products and services.
Instagram knows this, that is why it has developed tools such as Instagram Business or Instagram for companies. If you want your company to take full advantage of everything this social network has for you, we certainly recommend that you continue reading.
Facts about Instagram that you should know
Many managers believe that social networks are not useful tools for a business, nothing is further from the truth. Just look at the statistics on the use of Instagram in business. Today there are more than 25 million companies using this social network.
In addition, according to data from Hootsuite, around 200 million users visit at least one business profile per day. This supports the premise that Instagram is becoming the modern digital showcase for its format which allows brands to improve communication and make it more interactive.
How to open a profile and Instagram for business?
To have an Instagram Business account you have two options. The first is that, if you already had a personal account, but want to focus on branded content, you can convert it to Instagram Business. You can do this from your profile settings.
On the other hand, if you want to start from 0 then you have the option of creating a totally new Instagram Business account. The process is very similar to that of a personal account, you just have to complete a few steps and add the information requested by Instagram.
Points to keep in mind when creating an Instagram strategy
If you want your business to be successful using Instagram then we advise you to investigate what a Social Media plan is . Next, we will tell you 3 points that will help your brand to have a better impact on this social network.
Define your target market or audience: Instagram is full of users and not all of them can be potential customers of your brand. Define your user profile and from this define your target audience. This way you can only speak to people who really want to listen to you.
Metrics: Measuring is very important, since measurement gives you a parameter to know if what you are doing is working or not. There are metrics that you should consider over others. An example is engagement, conversion, and customer-related metrics. You should also consider the number of followers.
Publication schedule: It is not a secret at all that Instagram has an algorithm similar to that of Facebook. Defining publication times and having them match the connection times of your users will improve your reach. This way, you will make more people see your content.
Profile optimization
One of the most important points to take into account is the optimization of the profile, since it is not about creating a profile just to create it. You must take into account a large number of variables such as the design, the information that you are going to place and the data of your company.
Make sure to colorize images in the correct photo sizes for Instagram , as well as take advantage of Hashtags. We also recommend that you exploit the tone of the brand to the maximum to generate content. Other tools that you can exploit are spaces, line breaks and the use of emojis.
Content is still king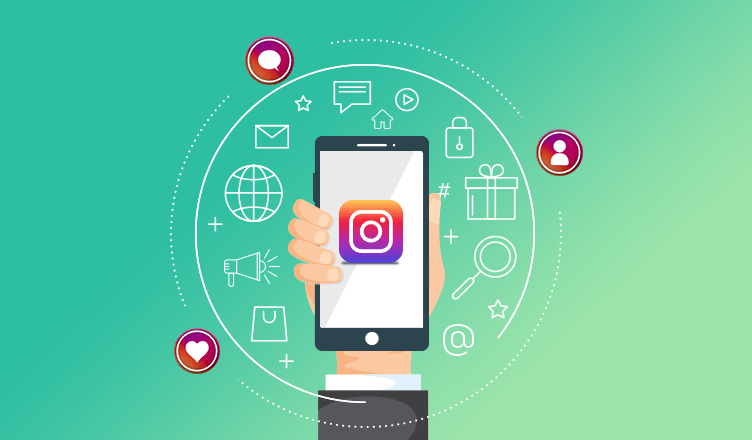 Many experts agree that content is still king on any social network, especially on Instagram because of its format. That is why here we will give you 3 tips to improve the quality of your content and its effectiveness.
Show them what they want to see: If your audience tells you that they like videos then you should create videos, if images with motivational phrases impact more, then you should create that content. This point basically refers to creating content based on what is most successful with your audience.
Customize your content: Although stock images look pretty, they should have a touch of your company. Make sure to add a phrase or icon that allows it to be distinguished so that it does not look like another piece of content. If you do not have a logo to insert in your content, here you can easily design your logo to be able to give branding to your social networks.
Mobile-friendly content: Because Instagram is a platform designed entirely for mobile devices, a huge mistake would be not to create content optimized for mobile devices. Remember that square and vertical video formats tend to have a greater impact and are easier to see on mobile screens.
Captivate to grow your account
To get millions of followers on your social networks, like most big brands, you need to captivate. This process is not a coincidence, rather it is a sum of constant efforts.
And it is that captivating your audience involves a lot of work. First of all, you should listen to them to know what they like and need. With this information you can go to the design table and start creating content that adds value and is relevant to users.
You should also focus on developing solutions that make life easier based on a premise, Why do we follow brands on Instagram? Simple, we seek to know more about what they offer. In this way, offering valuable solutions and communicating with them on Instagram can generate a better engagement with your community.
Inevitably many experts come to the topic of ads as a good way to boost your account. Although this strategy is very good and gives excellent results, you have to know how to use it so as not to overwhelm the audience. We recommend you use it, but with caution to avoid future problems.